Mahoney and Squire

The US Seventh Fleet command flagship patrols the Western Pacific to support fragile allies against threats from North Korea and China. Not every foe wears a foreign uniform. Not all enemies live outside the skin of the ship.
Caught in a vortex of international aggression and provocations, these warriors battle for peace—among nations and among themselves. Personal challenges do not take leave when a foreign power launches a weapon. Single parenthood, complicated relationships, ambition, sexism, jealousy, alcoholism, abuse, and haunted pasts demand attention alongside operations plans, guns, missiles, torpedoes, and silent scourges. In the heat of such battles, some triumph, others fail. Honor, courage, loyalty, love, sacrifice, commitment, and sheer guts make the difference.
The Mahoney & Squire Series of four novels plunges the reader into military threats, overt and covert, interpersonal conflict, and human drama. Complex characters, kick-ass heroines, and suspenseful action abound in a powder-keg setting.
Under contract to TouchPoint Press
Stand by for the First Novel, SHOW OF FORCE, launching in 2023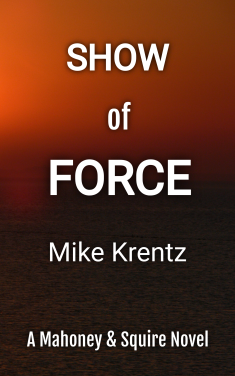 A divorced navy captain fights disparate battles. Western Pacific peace and her estranged teenager son's safety hang in the balance.