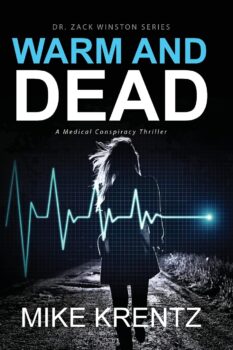 Dr. Zack Winston #2
November 22, 2022
TouchPoint Press
Available in: Audio, e-Book, Trade Size
Warm and Dead
He flourishes in the heart of a hectic ER but threatened loss of family becomes his greatest fear. Can an intrepid doctor protect his own from a twisted mind?
Dr. Zack Winston's self-confidence wobbles on shaky ground. Slated to see his daughters over Christmas for the first time in five years, the skilled emergency physician worries his relationship issues will prevent them from bonding. His determination to focus on his personal life sinks fast when he questions a pediatrician colleague's alleged suicide attempt by drowning.
Excerpts from the first two chapters of WARM AND DEAD:
Brutal pressure in her lower abdomen awakened the sixteen-year-old from a fitful sleep. Much worse than the labor pains two days ago.
Deep breaths, no help. She needed to pee. Could her bladder burst?
She tried to get up, but sudden cramping around her pelvis forced her
back onto the mattress.
 
More deep breaths. She rolled to one side. Did she sleep through a feeding?
 
Put off the bathroom. Nurse the baby. Forget the pain.
Why isn't she crying?
Terror swept through the teenager's body. She squinted against the darkness in the dreary bedroom. The horrible truth exploded in her mind seconds before her eyes focused on the empty bassinet.
 
Panic overcame pain. She fumbled for the switch on the bedside lamp and spent three tries to flip it on. Frantic eyes searched the room.
 
No baby.
 
* * *
 
You can plan for life, but you can't outsmart it.
His dad's prescient words caromed in Dr. Zack Winston's mind as he arrived at Bethesda Metro Hospital at 7 AM on a frozen late-December morning for his twelve-hour ER shift. Zack had not outsmarted life, but he had preserved it. He survived the attack on his life, saved Bridget's, and exposed a medical cabal.
Killed his best friend and mentor, too. For cause justified.
A year later, Zack relished his routine emergency medicine practice and less reckless off-duty lifestyle. Approaching fifty, Zack Winston had finally grown up. No longer driven to seek or create drama in his life.
The sub-freezing weather and predicted snowstorm should deter the seasonal crunch of ill and worried-well people seeking pre-holiday tune-ups in the ED. Zack checked his phone, again. The weather should stay away until after his evening trip to Reagan Airport to pick up his daughters visiting from the west coast.
Zack's optimism seemed validated when the off-going emergency physician, Dr. Paula Cho, turned over a department almost empty of patients.
He should have known better.
back to Top
"
5 Stars. This story unfolds like a movie! 
Catches the reader's attention from the short prologue to the last page. A mystery, detective, and love story that escalates into murder".
— Bernadette Longue for Readers' Favorite.
"A thriller that has it all—compelling twists, medical drama, a chilling crime at its center, and most importantly, heart. Krentz has mastered the tight, page-turning thrill ride, and his nuanced characters will keep you riveted." — Kelly Sokol, author of Breach and The Unprotected
"Warm and Dead is an utterly gripping psychological medical thriller. Mike Krentz has crafted another page-turner that hooks readers and doesn't let go until the last page. His brilliant skill at crafting realistic, evocative characters you'll love—and some you'll hate—and then dropping them into increasingly dire situations is on full display in this latest installment of the Dr. Zack Winston series. Alongside his unrivaled knowledge of medicine, Krentz seamlessly blends mystery, heroism, romance, and multiple astonishing twists." — Rob Samborn, Author of Prisoner in Paradise and Painter of the Damned